There are many elements that contribute to the SEO of an article. A well optimised title, high quality content, good internal links, outbound links, a healthy keyword density, rich media and more all add to make content more valuable, in the eyes of search engines such as Google. Another element that will add to the SEO is the URL and slug. The URL is something of paramount important. But, if you're website is setup already, you can't really do much for the domain, unless you have the budget to purchase another one (if it has been already taken). If this is the case, here are 10 great tips to help you choose the best domain name for your website. The slug, on the other hand, is something you can change for better SEO.
That's right. You can still change the slug to whatever works best for your website, without any SEO penalties.
Whilst it is true that the vast majority of websites will setup the slug structure correctly when they first start the website, not all will have the SEO knowledge and capacity to judge what slug structure will work best for their website. When you do find out, is it too late to change it or not? I'm here to tell you it's possible to change the slug structure to whatever you want, because I have done it with one of my website's poemanalysis.com, that went from /%postname%/ to /%category%/%postname%/. Take the poem Daddy by Sylvia Plath. Before, the URL was:
Now, it is:
With the old domain redirecting to the new domain name. You can also see the benefits of changing the slug structure for the website. Every poem has a poet, so I am able to take out the connecting word 'by' to make the URL smaller (as well as other junk such as 'poem-analysis' and 'summary' – this is not needed as it is already in the domain name). On top of this, it fits much better with being more readable, and the structure of the website. For example, navigating to https://poemanalysis.com/sylvia-plath/ will take you to a list of all the poems analysed from Sylvia Plath – Google will appreciate this change!
I have spent, pretty much, the best part of a month researching what is the best way to do this. There are many different ways you can change the slug structure, so don't take mine as gospel truth. But, be sure to know it works and works well. With this in mind, here's how you can change your site's slug structure without any SEO hindrance.
Before changing anything, it is always recommended you test a permalink structure change on a staged website. Changing the permalink structure in the wrong way has the potential to create 404 errors to ranked pages on search engines, which is incredibly dangerous for downgrading the SEO of each 404 post.
Define What Slug Structure You Want
The first step is to understand what slug structure you want to migrate to. Generally, there are three considerations you want for a slug structure:
SEO – the shorter the slug structure, without losing any information, the better for SEO.
Readability – If you adopt a structure that makes sense to the web user, it would be easier for web users to understand the content on your website.
Speed – WordPress has to look through a database of URLs to find the content – if you make it easy for WordPress to understand the uniqueness of the slug closer towards the start, the quicker it will find the content and load it.
Here are some of the most popular slug structures, with their main pros and cons associated for each:
/%postname%/

+ By far the most popular and used option for slug structures
+ Good for SEO
+ Readable
– Bad for speed indexing
– Isn't able to show structure of website clearly

/%category%/%postname%/

+ Great for showing the structure of a post by including the category
+ Extremely easy to read and understand
+ More indexable for speed than %postname%
– Could potentially make the slug longer, resulting in worse SEO
– Restricts all posts to having a relevant primary category

/%post_id%/%postname%/

+ Best for speed indexing, since the post ID is always unique
+ Good for SEO
– Not as readable with the unique ID number at the start
– Size of ID increases with number of posts on website
– Least readable
Yoast Assistance to /%postname%/ Slug Structure
Commonly, if you do not alter the WordPress permalink structure, it will default to including the date in the slug, such as https://samplewebsite.com/2020/01/22/sample-post. This is not ideal for evergreen content, or content where the date is not relevant. For this reason, we will want to get rid of it. You can do this for free with the assistance of Yoast.
Yoast have a great article which outlines how to change your permalink structure from whatever it was to /%postname%/. All it takes is choosing your permalink structure in WordPress, and adding some generated code from Yoast to your .htaccess. If I was changing to %postname% structure, this would be the way I would do it. However, as always, I wasn't and wanted to go away from /%postname%/ to /%category%/%postname%/ – how do we do this?
Use Permalink Manager Pro
After lots and lots of research, the conclusion was to use a certain plugin entitled 'Permalink Manager Pro'. There is a Lite version of the plugin, but there will be reasons you will want to spend the ~$50 to get the Pro version.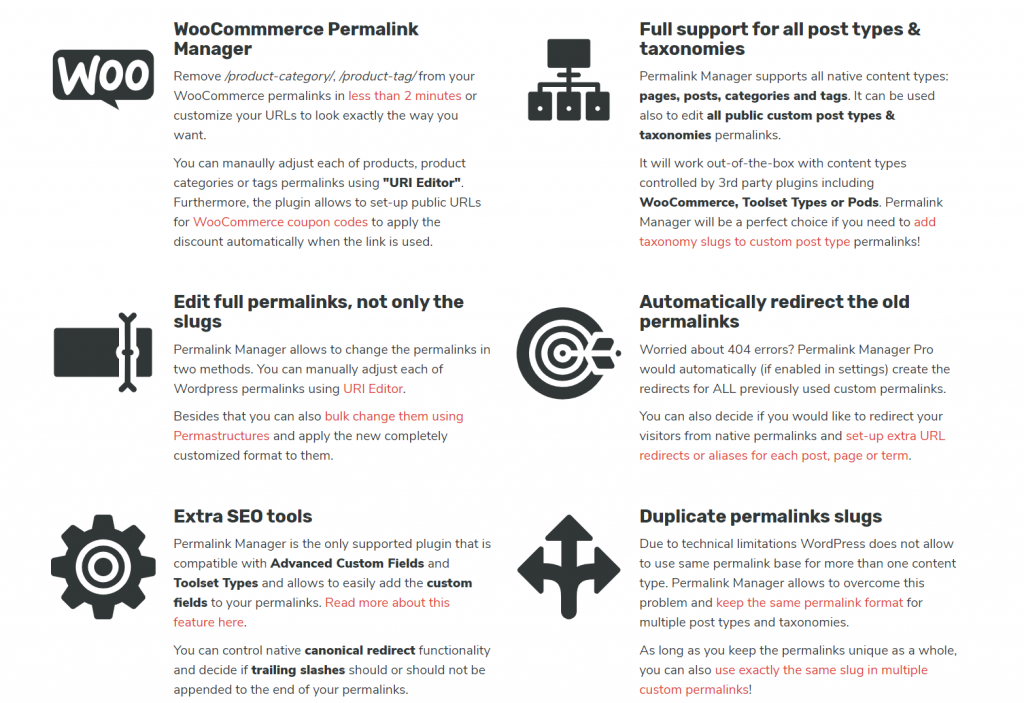 Permalink Manager Pro is a seamless way to change your permalink structure from whatever you had before, to whatever you want in the future, without issues. No changing .htaccess files. Just a simply plugin with lots of functionality. The steps to change slug structure with the plugin are as follows:
Download and install the plugin onto your WordPress website
Go to 'Permalink Structures' and choose your permalink structures to use (slick Save Changes at the end)
Regenerate custom permalinks – this is where the value, for me, is held in this plugin. Under Tools/Regenerate/Reset, you can generate redirects for all your posts, pages, etc. (or whatever permalink structure you have changed) so that they redirect to the new permalink structure. You can then choose to use 301 or 302 redirects (choose 301 if permanent changes, 302 if not) and let the plugin create the redirects

Once done, it is wise to use a crawl service, such as SEMRush Site Audit, Screaming Frog or other to test that no links are left in a 404 state.
And that's it, everything should be working! What is good about Permalink Manager Pro is that it auto creates 301 redirects when you change the slug of any article, a bit like what Yoast and RankMath does. The Lite version unfortunately does not do this, providing a good incentive to go with the Pro version.
One thing to note about the plugin is that it does not automatically update the actual URLs of articles. It creates a separate array. This does mean if you uninstall the plugin, the redirects will stop and the website will break. This could mean you are locked into using the plugin. However, long term, there is a solution to this:
It will take Google a few months to update URLs to the new structure for the organic traffic.
You can use the likes of AHREF, SEMRush, Screaming Frog or other site audit tools to find all incoming links you have for articles from other websites. You can then go through each one, creating separate 301 redirects, away from the Permalink Manager Pro self-generated array.
Once you have done this, and Google has completely moved organic results to the new slug structure, in theory, you should be able to uninstall the plugin, and change the permalink structure directly in WordPress under 'Tools'. Note that this last bit has not been tested, but is a workaround so you can limit the number of plugins you have on your site!
Either way, Permalinks Manager Pro, after a lot of research, proved to be the best way to migrate to a different slug structure. As it stands for Poem Analysis, nothing is broken, not even pagination pages) and everything is working seamlessly. Another great thing is that the support from the developer of the plugin, Maciej Biz, is extremely quick, which is exactly what website owners need, when making such a big change the URL of post and pages, where doing it wrong can damage SEO and cause lots of 404 pages.
Originally published at Ppc.org