[ad_1]

Retail traders bought up U.S. stocks at the fastest pace ever recorded in January, as inflows from traders using electronic brokerages surpassed the previous peak from the height of the meme-stock craze in 2021 according to data from Vanda Research.
After shunning stocks for the safety of money-market funds last year, retail traders poured an average of $1.51 billion per day into the U.S. equity market last month on a net basis, with buyers snapping up shares of some of their favorite megacap names like Tesla Inc.
TSLA,
+2.60%
and Nvidia Corp.
NVDA,
-2.69%.
Their buying coincided with a surge in U.S. equity prices after the major U.S. indexes recorded double-digit declines in 2022. The Nasdaq Composite, home to many retail favorites, surged nearly 11% during January, its best month since November 2020, according to FactSet data.
The previous peak in retail inflows occurred started in January 2021 and continued into early February of that year, just as prices of GameStop Corp.
GME,
+1.81%,
AMC Inc.
AMC,
+0.76%
and other meme stocks soared to what were then record highs, a representative for Vanda Research said.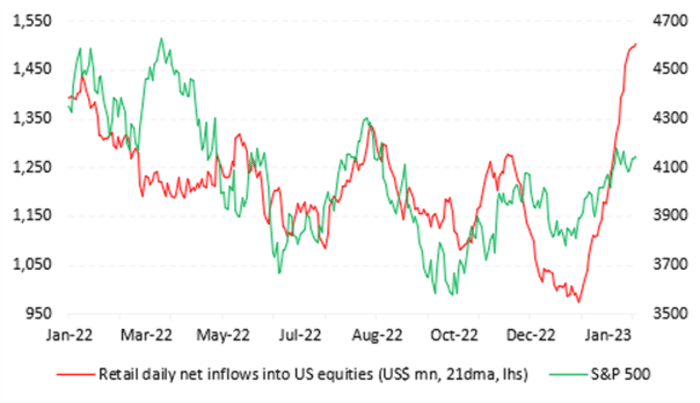 Tesla saw the highest volume of retail buying by dollar amount, with net inflows of more than $9.7 billion, as investors seized the opportunity to buy up shares after they declined in value by more than 65% last year, according to FactSet data. Other popular names were the SPDR S&P 500 ETF
SPY,
-0.34%,
Amazon.com
AMZN,
-1.29%,
Apple Inc.
AAPL,
-0.88%
and NVIDIA Corp.
NVDA,
-2.69%
Many highly speculative tech stocks with much smaller market capitalizations, including the Ark Innovation ETF
ARKK,
-0.84%
and many of its holdings, also made an appearance on Vanda's list of most popular retail names.
While March and April are typically tepid months for retail buying as the fourth-quarter earnings season comes to a close and investors focus on paying their taxes, Vanda showed small-time investors still have plenty of money in reserve to pour back into equities.
"…[R]etail investors have plenty of dry powder in the form of capital parked in money market funds that could be deployed in the equity space once confidence about future market returns increases more broadly," the Vanda Research team said in a note.
Once written off as marginal players in an equity market dominated by professional traders, individual investors have played an increasingly important role in markets ever since popular electronic discount brokerages dropped commissions in late 2019 to compete with Robinhood Markets Inc.
HOOD,
-0.19%
The advent of the COVID-19 pandemic a few months later created a perfect storm, as millions of Americans invested their government stimulus money in stocks while others turned to day trading to alleviate the boredom of being stuck at home.
The trend culminated with retail buyers pouring into stocks like GameStop Corp.
GME,
+1.81%
and AMC Inc.
AMC,
+0.76%
kick-starting the meme-stock craze and showing that retail traders can drive major swings in markets.
In fact, retail buying appears to have played a significant role in the January rally, as many of their favorite names also ranked among the market's top performers. Retail interest could be one reason why many highly speculative names like Carvana Co.
CVNA,
+5.36%
and Coinbase Global Inc.
COIN,
-0.30%
saw high volume.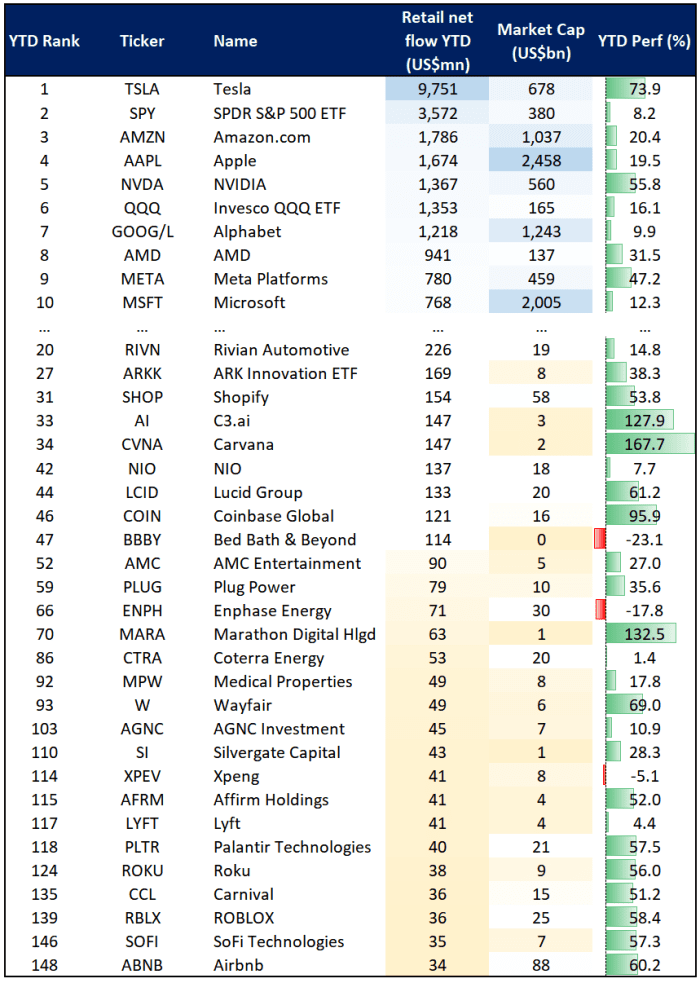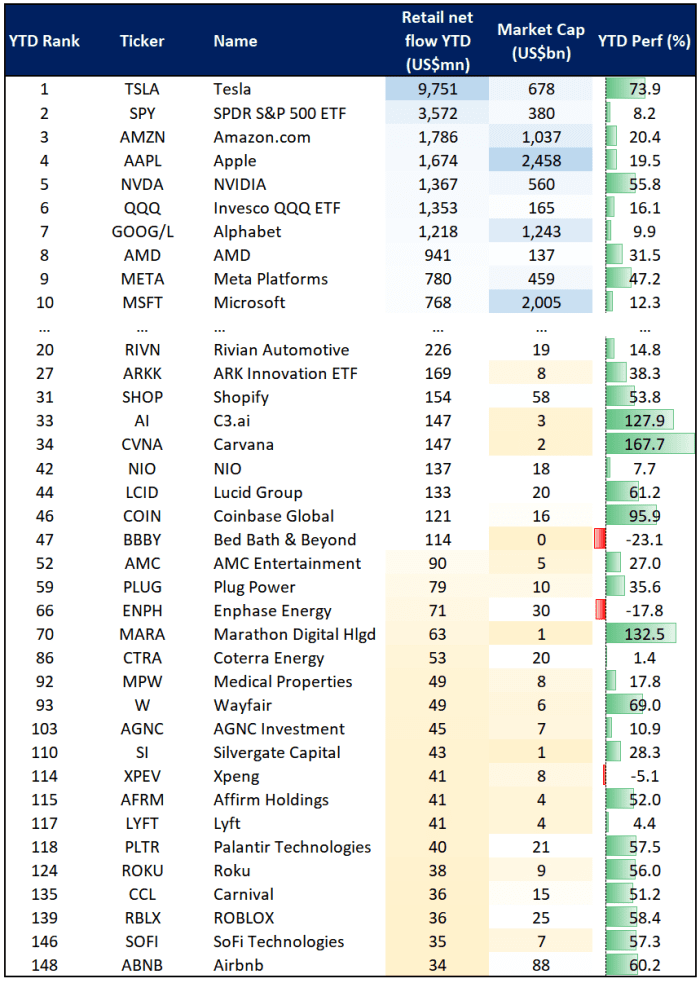 "Many smaller-cap single stocks are also beginning to populate the top part of the retail leaderboard so far in 2023," the Vanda team said.
Carvana is up 139% so far this year, while Coinbase has risen 80%. Tesla is up 67.3% year to date and rose more than 40% in January, according to FactSet data. Meta Platforms Inc.
META,
+0.09%,
which fell by more than 64% last year, rallied by 23.79% in January as retail investors poured $780 million into the company's stock.
[ad_2]

Source link