No marketer wants to overcommunicate with their target customers. But the demands of a campaign-driven strategy often result in flooding customers with sales offers to promote their product or service.
"If you put yourself in the customer's shoes, it's like a nonstop barrage of sales stuff flying at you all the time, and it can be really off-putting for all of us," said Matthew Camuso, Product Marketing Manager at Pega, speaking at MarTech. "The average response rate on a campaign and the US is around 1%, which means that 99% of the time the things we put out there in the market are getting ignored."
These numbers are unsurprising when one considers that the average person sees more than 6,000 ads a day.
"People don't have the most positive perception of marketers right now and they don't particularly trust us," Camuso said. "We did a study last year at Pega and 68% of consumers thought that businesses weren't capable of empathy or feeling or understanding what they actually need as customers, much less acting upon it."
He added, "So right now, marketing is really failing and letting its customers down more often than it works."
Watch the full presentation from MarTech here (free registration required)
One idea is to create an "always-on" marketing strategy to approach customers better, but it's important to remember that "always on" doesn't mean "always communicating."
"You work to help them solve that problem right there in the right channel exactly when they need it. That's how the always-on marketing program works," Camuso said.
Camuso says marketers employing an always-on marketing strategy need help through some kind of "centralized brain", more specifically an AI-driven platform that allows for personalized messaging on various marketing channels.
---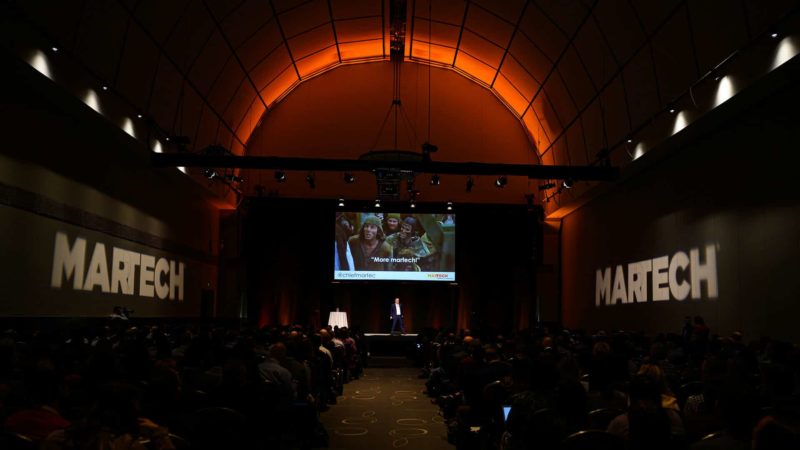 ---
"Instead of just looking at sales offers, we start with all the possible things we could talk to them about," he said. "It could be thousands of them, and even though the next best action should be AI-driven, we're not going to let the AI run rampant experimenting on every single person with every topic."
He added, "Instead, marketers can maintain control and establish criteria that must be met before the AI can even consider having one of those conversations."
Indeed, an always-on marketing strategy shouldn't be left entirely up to AI. Savvy marketers need to give the system direction and find ways to continually improve it.
"The processes for doing this work in support of the always-on marketing machine need to be monitored continuously and improve for quality and efficiency," said Michael McCune of Gartner in a separate MarTech session. "And this is where marketing operations comes in and plays a role to compliment marketing data and analytics."
---
Snapshot: Marketing automation
For today's marketers, automation platforms are often the center of the marketing stack. They aren't shiny new technologies, but rather dependable stalwarts that marketers can rely upon to help them stand out in a crowded inbox and on the web amidst a deluge of content.
HubSpot noted late last year that marketing email volume had increased by as much as 52% compared to pre-COVID levels. And, thankfully, response rates have also risen to between 10% and 20% over their benchmark.
To help marketers win the attention battle, marketing automation vendors have expanded from dependence on static email campaigns to offering dynamic content deployment for email, landing pages, mobile and social. They've also incorporated features that rely on machine learning and artificial intelligence for functions such as lead scoring, in addition to investing in the user interface and scalability.
The growing popularity of account-based marketing has also been a force influencing vendors' roadmaps, as marketers seek to serve the buying group in a holistic manner — speaking to all of its members and their different priorities. And, ideally, these tools let marketers send buyer information through their tight integrations with CRMs, giving the sales team a leg up when it comes to closing the deal. Learn more here.